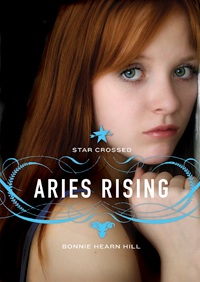 Logan McRae wants to accomplish two important goals before finishing her sophomore year in high school: get accepted into a prestigious summer writing program and get a date with Nathan, the senior she can't stop thinking about. Her chances of achieving either goal seem remote until she happens to find a book in a closet at home called Fearless Astrology. Can Logan use the information she finds out about her teachers and friends by reading their star signs to help her get what she wants?
Aries Rising is the first in the Star Crossed series by Bonnie Hearn Hill. The premise is intriguing: use astrology to find out what motivates the people you know to act the way they do, then adjust your own actions to help you get along with them better and maybe get what you want in the process. It's a tribute to Hill's writing that Logan doesn't come off as manipulative in her quest. She truly wants to understand people, and as she tests the things she's learns in Fearless Astrology, she also finds out how to see below the surface that most people project. When she looks past the preconceived notions she has about the English teacher many students despise and the art teacher they dismiss as ditzy, she starts to see real people, motivated by real emotions. This means she begins to relate to them differently too, and the reader can see her grow in the process.
Each chapter of Aries Rising starts with a quote from Fearless Astrology, setting the tone for the action to come. Each chapter also ends with a "Notes to Self" section written by Logan. Even though the book is told from Logan's perspective, these notes are similar to diary entries, and they reveal a little more about her than what the reader learns from the chapters. Each of these features keeps the action moving along.
There's also a bit of mystery involved. A group of students dubbed The Gears has been vandalizing the school. Their actions escalate as the book progresses, and Logan is convinced she can figure out who they are and stop their actions by using astrology.
I believe Aries Rising is a great book to read with a mother-daughter book club whose girls are in high school. Moms can remember their high school days, and daughters can identify with their current experiences. Both will likely know with what it feels like to be insecure and thinking that many people around you are more confident and have their lives more together than you do. In many ways that seems to be a universal feeling, and the lure of using a book to help you figure it all out is strong.
The astrological information is also fun. Logan talks a lot about what she learns for each of the sun signs of the people around her. Once she gains more confidence, she digs deeper and looks at moon influences and rising signs. You'll also find a page of temporary tattoos for each sign inserted into the back of the book. It all may just send you out looking for your own version of Fearless Astrology.
I intend to read all the books in the series, and I'm glad to know I won't have to wait long for the next two. Taurus Eyes is scheduled to be released in May and Gemini Night comes out in September. Both books are available for preorder now. More information can be found on Hill's website: http://www.bonniehearnhill.com.
Coming tomorrow: an interview with author Bonnie Hearn Hill.