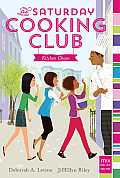 Liza and Frankie are a team, best friends since forever and great partners on school projects too. But when their 7th grade social studies teacher assigns a major project for teams of three, they have to expand their ranks to include a new girl, Lillian. Liza takes to her right away, but Frankie is not so sure she wants to embrace Lillian as a new friend as well as a teammate.
The project they create—exploring the history of U.S. immigrants through food—gets them to sign up for a cooking class with their moms and discover things about eating, and themselves, they didn't know before.
The Saturday Cooking Club: Kitchen Chaos, is the first of a new series by Deborah A. Levine and JillEllyn Riley. Told in alternating chapters from the perspective of each girl, the book gives insight into challenges that arise in different family situations. For instance, Frankie's family life includes several brothers, a firefighter dad that cooks, and a mom who is prone to kitchen disasters. Liza's single-mother mom is often too harried to put a meal on the table, and Liza often ends up heating up food or ordering take out. Lillian's family seems perfect on the outside, but she feels pressure to conform in ways that don't fit her personality. Each girl learns to recognize the challenges as well as the benefits of living within her own unique family.
I highly recommend Kitchen Chaos for mother-daughter book clubs with girls aged 9 and up. Issues to discuss include making new friends while keeping old ones, mother-daughter relationships, personality in the kitchen, and family backgrounds. Don't be surprised if you're inspired to explore more of the foods mentioned in the book and create your own feast for book club.
The authors provided me with a copy of this book in exchange for my honest review.
Save