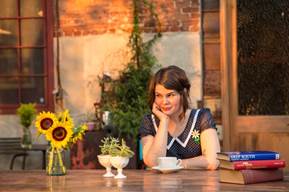 Today I'm taking part in a blog tour that features Megan Jean Sovern, author of  The Meaning of Maggie. Today you can read an interview with Sovern, then leave a comment about something she says that has meaning for you. Comment before midnight (PDT), Thursday, May 29, 2014 and you'll get a chance to win her book. Please note: the giveaway is closed. Congratulations to Kirsten on winning.
Check back tomorrow when I feature my review of The Meaning of Maggie. Here's a bit of information about Sovern from her bio:
Megan Jean Sovern is a purveyor of fine teas, old time-y music and hugs. Recently she was in a bad break-up with muffins and her life hasn't been the same since. She's often mistaken for a seventh grader but don't be fooled, she is very grown-up. A grown-up who watches television past ten o'clock and everything. Before her first leap into fiction, she was an advertising copywriter for many moons where she worked with top-notch talent mostly named Matt or Karen. She lives in Atlanta, Georgia with her husband Ted and his near complete collection of Transformers. He doesn't like it when she says, "Zoinks." Find out more at her website.
Now, on to the interview.
How did you decide to become a writer?
MJS: I think I decided when I was eight when everyone else wanted to be marine biologists that I wanted to be a writer. Marine biology just wasn't for me. Fish gross me out.
What do you like most about writing for young readers?
MJS: Everyone has an age they identify most with. Or a couple of ages. My husband is both 17 and 84. But I just feel connected to being eleven. I remember every single thing about it. Good and bad. So writing for young readers feels right. Plus, writing for grown-ups is a real drag. I can't write about grown-up stuff. It grosses me out. Almost as much as fish.
What do you find most challenging?
MJS: In life? Applying eyeliner. In writing? Keeping myself out of the story and letting the characters tell their own side of it.
Why did you decide to write about a parent who has Multiple Sclerosis?
MJS: My father was diagnosed with MS two months after I was born. So I never knew him without it. I also never knew him without a mustache. So I had a lot to say when it came to telling a story about a dad with MS and a mustache. And it felt like one worth telling.
Maggie's dad is dealing with a serious health problem, yet no one says much to Maggie about the true nature of it. What do you think about talking with children about big family issues?
MJS: I think children are way more resilient than we know. As grown-ups, we forget that being a kid is just as hard in many ways as being an adult. There are huge obstacles at every corner and they conquer them as gracefully as they can.
So when big issues pop up, you have to give them the chance to handle it in their own way. You let them cry. You let them slam doors. You let them freak out. And then you hold their hands and you have ice cream for dinner.
Like a lot of siblings, Maggie and her older sisters don't always get along. What helps them see beyond what they expect to see about each other?
MJS: The relationship between Maggie and her sisters, the good and the bad, is definitely a result of circumstance. I don't know if they would have ever gotten to know each other if they weren't forced to confront all of these big things together.
Like most teenagers, they probably would have gone in their rooms at thirteen and not come out until college. But what a great thing that didn't happen. What a great thing that these three very different people found comfort in each other.
Maggie grows a lot over the year the book takes place. Yet she retains her innocence too. Was it difficult for you to portray that in her character?
MJS: Maggie is an old soul. But the rest of her is eleven. The way her brain works is eleven. The way her heart leaps five steps ahead is eleven. And letting her grow up little by little was the most rewarding part of telling her story. Letting her find that next layer in her own time really guided my writing. And I hope it feels as honest to read it as it felt to write it.
Is there anything else you'd like to share with readers at Mother Daughter Book Club. com?
MJS: Thank you so much for letting Maggie and me have a moment on your wonderful blog! Let me know if I can ever return the favor. I don't blog. But I do make granola, with or without raisins, if you're interested.
Save
Save