Often, parents think that once a child is old enough to read on her own, she doesn't need them to read to her anymore. While it's true that a child's burgeoning capabilities can be celebrated and encouraged, I want to challenge the idea that parents should stop reading to their children altogether. Here are several reasons your child may never grow too old for you to read to her:
You can read books that are slightly above your child's ability to understand if she reads them herself. As you read, she can learn knew words and take in concepts that she would be able to grasp on her own.
Joanne Meier, who provides research guidance for Reading Rockets says that reading aloud "is a great opportunity to model for your child what good, fluent reading sounds like."
Talking about what you read lets you broach topics that may not come up otherwise. If the characters in the book are having trouble with a friendship, your daughter may be encouraged to open up with you about a difficult relationship she's having as well.
Reading together is time set aside for a shared activity. Minimize the distractions to show you both think your time together is important.
It's a good way for older kids to reconnect with parents. Catherine Weigel Foy, LCSW, LMFT, a clinical lecturer at the Weinberg School of Psychology and an affiliate therapist with the Family Institute, both at Northwestern University in Evanston, Illinois, recommends that if moms are having trouble connecting with their teen daughters they start reading to them at bedtime. She says this simple act often connects to a good, positive memory from earlier childhood that can help bridge a relationship gap.
I still read to both of my daughters, who are 19 and 16 now. We read on our own as well, but the time we spend together with a book is time we know that's just for the two of us. And while my own mom doesn't read books to me (we live too far away for that), she does read stories she's written of her childhood and early adult years. I love listening to her voice as she recounts tales of how she grew up, and I never want it to stop.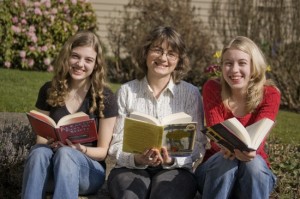 Save