Book Review and Giveaway: Dear Teen Me, edited by E. Kristin Anderson and Miranda Kenneally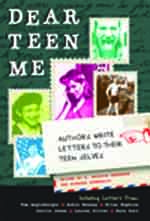 When you're in high school, it's easy to think that you and your friends are the only ones who have challenges and everyone else has it good. It's also easy to think of adults you admire as falling into the category of kids who had it good in high school. After all, if they have grown up to become successful, they must have known what they were doing all along, right? Not so, according to the writers featured in a new anthology called
Dear Teen Me: Authors Write Letters to Their Teen Selves
. Edited by E. Kristin Anderson and Miranda Kenneally,
Dear Teen Me
features letters from 70 young adult authors, included Lauren Oliver, Ellen Hopkins, Joseph Brushac and Leila Sales. Many of the authors included in the collection wrote letters to their younger selves, hoping to encourage them to get through some hard days ahead. There are also a few illustrated letters and general Q and A's, with questions such as "Who was your celebrity crush," and "What was your most embarrassing moment?" Each author writes with candor, some about issues you may not expect, such as cutting, contemplating suicide, dealing with eating disorders and sexual orientation. There are also stories of authors who were shy, had unrequited crushes, experienced problems with family members, felt insecure, and more. Every story offers an insight not only about the author, but about the common experience that many teens face on the way to find out about and becoming their true selves.
Dear Teen Me
is a word of encouragement to any teen who may be experiencing difficult times and believes she is the only one going through problems like hers. It is also a great way to get insight about authors who write for teens. Each letter is accompanied by a short bio that includes books the author has written, so it can also be a great place to find new titles to read. Learn more about the contributors, and get a link to each author's website, by checking out the
Dear Teen Me website
, where you can also find a few great
trailers
.
And don't forget to leave a comment below with either a short note to your own teen self or why you're looking forward to reading Dear Teen Me so you can be entered into the giveaway. I'm giving away one copy signed by four or five of the authors to a reader in the U.S. or Canada. Please comment by midnight (PST), on Monday, November 19, 2012 to enter.
Please note: the giveaway is closed. Congratulations to Diane on winning.
Publisher
Zestbooks
provided me with a copy of this book in exchange for my honest review.